let's talk about
environment
Latex, an essential natural material
Latex is not plastic!
BallonPub makes its balloons with natural latex, the fruit of the "weeping wood". This sap from the Guyanese rubber tree was appreciated by the Mayas and the Aztecs, who considered it a magical substance, both elastic and waterproof.
To obtain the precious liquid, incisions are made in the bark of the rubber tree and the latex gradually drips out. It is collected after two or three hours and taken to a factory for processing.
Latex is biodegradable
After several years of studies and research, BallonPub obtained on May 18th 2011 a certification of biodegradability for the balloons manufacturing processes.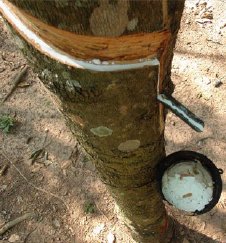 Rubber production is recognised as a "green industry"
In a single year, the 16 million trees needed by the global balloon industry absorb more than 363 million kilos of carbon dioxide (CO2). The crop also contributes to the local economy: the latex harvest is of greater benefit for the producers, who no longer have to clear large areas of land to raise livestock.
Watch our video on latex extraction
BallonPub is a member of EBPC
(European Balloon & Party Council)
This organisation of latex balloon manufacturers and distributors works to constantly improve industry standards in a positive and sustainable environment.