Ethics
Our balloons have always been manufactured in an ethical way, without ever involving child labour. Our balloons are designed to guarantee maximum safety for the user and are subject to numerous controls at each stage of the production chain.
Quality
Several criteria make the quality of a balloon signed BallonPub:
• the performance of the industrial tool,
• a vigilant team that respects the entire manufacturing process,
• traceability at all stages of production, from the receipt of raw materials to the delivery of finished products,
• a meticulous sorting by our quality/production control team.
A BallonPub balloon is: a regular shape, the absence of unpleasant odours, a high quantity of latex and a high pigmentation rate.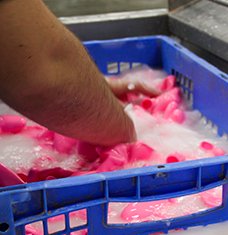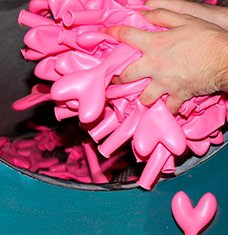 Hygiene
For complete hygiene, our natural latex balloons are soaped and rinsed during manufacturing. They are also checked by a large independent industrial analysis laboratory, accredited and notified by the European Community.
Colours
Headed by a chemist and in collaboration with the creative pole, BallonPub's R&D department works on the development of colours, created in-house. Always in the trend, they evolve regularly.